Cost Savings

Providing the highest quality of electronic components at the most competitive rates is our specialty. Through the years customers have come to rely upon our manufacturing services that can bring down costs by as much as 50% compared to domestic alternatives. Our extensive experience in Asian assembly, supply chain management, and rigid standards compliance translate to unmatched value.
Searching for ways to cut down costs is an integral part of our business strategy. ESB uses its years of industry experience to cut down on expenses related to freight, insurance, duty charges and tariffs. The savings we get from buying in volume or finding a more competitive supplier is passed on to our customers. The Source of Savings graph below shows a cost analysis of a typical board. We compare domestic to overseas costs and state the savings as a percentage.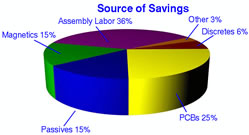 To determine the level of savings from offshore manufacturing for your company, ask us for a quotation today!